In today's ever-changing digital world, individuals and businesses must maintain a strong brand identity on Instagram. If you want to rebrand your Instagram account, this comprehensive guide is here to help. By assessing your current brand identity, setting clear rebranding goals, developing a strategic plan, updating your profile, creating engaging content, and promoting your rebranded account, you'll gain invaluable insights and practical advice to navigate this transformative process easily. Get ready to evoke positive emotions in your audience and achieve remarkable growth and success on Instagram.
Assess Your Existing Brand Identity
First, take a close look at your current brand identity on Instagram. Evaluate your profile, posts, and overall aesthetic. Consider what's working well and what may need improvement. By understanding where you currently stand, you can effectively plan your rebranding journey.
Set Clear Rebranding Goals
To ensure a successful rebrand, it's crucial to establish clear goals. What do you want to achieve with your new brand identity? Define your mission, vision, and values. Determine the message you want to convey to your audience. By setting specific and measurable goals, you'll have a roadmap for your rebranding efforts.
Develop a Strategic Plan
With your goals in place, it's time to develop a strategic plan. Outline the steps you need to take to achieve your rebranding objectives. Consider factors such as content creation, engagement strategies, and collaborations. A well-thought-out plan lets you stay focused and make informed decisions throughout rebranding.
Update Your Profile
Updating your profile is one of the first steps in rebranding your Instagram account. Choose a username and bio that align with your new brand identity. Update your profile picture and highlight key features of your brand. By making these changes, you'll immediately attract the right audience and set the tone for your rebranded account.
Create Engaging Content
To captivate your audience, it's crucial to create engaging content. Experiment with different types of posts, such as photos, videos, and stories. Use relatable captions and encourage interaction. Be consistent in your posting schedule to maintain audience engagement. Creating content that resonates with your audience will foster a loyal community around your rebranded account.
Promote Your Rebranded Account
Last but not least, promote your rebranded account to ensure maximum visibility. Leverage your existing social media platforms and email lists to announce your rebrand. Collaborate with influencers or partners to amplify your reach. Engage with your audience and encourage them to share your rebranded content. You'll attract new followers and generate excitement around your rebrand by actively promoting your account.
By following these strategies, you'll be well on your way to successfully rebranding your Instagram account. You'll achieve significant growth and success on this influential platform with a strong brand identity, clear goals, engaging content, and effective promotion. Embrace the transformative power of rebranding and make your mark on Instagram.
Assessing Your Brand Identity
A competitive analysis helps identify opportunities for differentiation and positioning in the market. By taking these steps, you can lay a solid foundation for a successful rebranding strategy on Instagram.
Setting Clear Rebranding Goals
This discussion will focus on the importance of defining rebranding objectives and establishing measurable rebranding goals.
Defining clear objectives allows businesses to understand what they hope to achieve through rebranding, whether it is increasing brand awareness, improving customer perception, or expanding market share.
Defining Rebranding Objectives
To effectively rebrand an Instagram account, it is essential to establish the objectives of the rebranding process. Defining rebranding objectives involves identifying specific goals the organization aims to achieve through the rebranding efforts. These objectives can vary depending on the needs and circumstances of each account, but common examples include:
Increasing brand awareness
Attracting a new target audience
Enhancing engagement
Promoting a new product or service
Organizations can align their strategies and tactics by clearly defining these objectives at the outset of the rebranding process.
Additionally, establishing measurable metrics for success is crucial in evaluating the effectiveness of the rebranding efforts. This may involve tracking changes in follower count, engagement rates, website traffic referral from Instagram, or conversions generated through Instagram to gauge whether the desired outcomes have been achieved.
Establishing Measurable Rebranding Goals
Establishing measurable rebranding goals is a crucial step in the process, as it allows organizations to track and evaluate the effectiveness of their efforts. By setting specific, measurable, attainable, relevant, and time-bound (SMART) goals, businesses can ensure that their rebranding efforts are aligned with their overall objectives.
Here are five key reasons why establishing measurable rebranding goals is essential:
Provides clarity: Setting goals helps organizations define what they want to achieve through rebranding.
Facilitates decision-making: Measurable goals enable businesses to make informed decisions based on objective metrics.
Enhances accountability: Clearly defined goals hold individuals accountable for their actions and progress towards achieving them.
Supports resource allocation: Measurable goals help allocate resources effectively by identifying areas that require more attention or investment.
Enables measuring success: Establishing measurable goals enables organizations to assess their rebranding efforts' success objectively.
Developing a Rebranding Strategy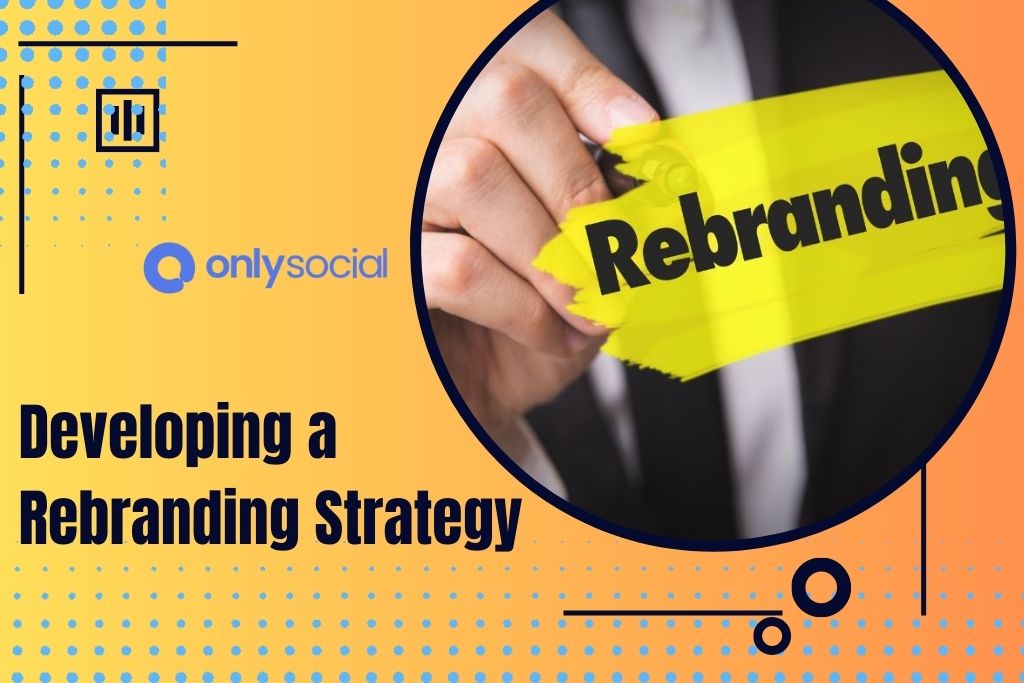 One critical aspect of rebranding an Instagram account involves the development of a well-thought-out strategy. Developing a rebranding timeline is crucial to ensure the process is executed smoothly and efficiently. This involves setting specific milestones and deadlines for each stage of the rebranding process, such as updating profile information, redesigning visuals, and engaging with followers. By establishing a clear timeline, businesses can effectively manage their resources and allocate sufficient time for each task.
Implementing rebranding changes effectively is another critical element of a successful strategy. This requires careful planning and execution to ensure that all changes are seamlessly integrated into the account without disrupting its aesthetics or user experience. Communicating these changes to followers through posts or stories is as important as explaining their reasons and addressing concerns.
Moreover, engaging followers during rebranding can help maintain their interest and loyalty. Regularly posting updates about progress can generate excitement and anticipation among followers, keeping them engaged throughout the transition.
Updating Your Instagram Profile
Updating the profile on Instagram involves making necessary changes to the account's information and visuals through the rebranding strategy. This step is crucial as it lets users perceive the new brand identity and objectives. To successfully update your Instagram profile, consider implementing the following strategies:
Update your profile picture: Choose a compelling image that aligns with your rebranding goals and resonates with your target audience.
Optimize your bio: Craft a concise and captivating bio that reflects your new brand identity, mission, and values.
Revise your username: If necessary, change your username to better align with your new branding strategy. Ensure that it is memorable and easy to search for.
Revisit hashtags: Evaluate the effectiveness of existing hashtags used in previous posts. Consider incorporating new ones that are relevant to your rebranded account.
Review highlights and stories: Update or remove outdated highlights and stories that no longer align with your new brand identity.
Creating Engaging Content for Your New Brand
This discussion will focus on the key points of visual storytelling techniques, captions, and hashtag strategies in creating engaging content for your new brand.
Visual storytelling involves compelling images, videos, and graphics to convey a narrative or message to your audience.
Captions are crucial in providing context, enhancing understanding, and encouraging interaction with your content.
Hashtag strategies are essential for increasing the visibility and discoverability of your posts by targeting specific keywords and trends relevant to your brand.
Visual Storytelling Techniques
Visual storytelling techniques are essential for successfully rebranding an Instagram account. Using these techniques, brands can effectively communicate their message and engage with their audience. Here are five key visual storytelling techniques that can enhance branding aesthetics:
Consistent Visual Style: Maintain a cohesive look and feel across your posts using consistent color schemes, filters, and fonts.
Compelling Images: Use high-quality and visually appealing images that capture attention and evoke emotions related to your brand.
Storytelling Captions: Craft compelling captions that complement your visuals and tell a story about your brand or the shared content.
Behind-the-Scenes Content: Share glimpses of your brand's processes, team members, or events to humanize your brand and create a sense of authenticity.
User-generated Content: Encourage followers to share their experiences with your brand through user-generated content, fostering a sense of community and trust.
These visual storytelling techniques will help rebrand an Instagram account successfully while enhancing its overall branding aesthetics.
Captions and Hashtag Strategies
Captions and hashtag strategies are crucial in amplifying the reach and engagement of Instagram posts. Captions serve as an opportunity to provide additional context, convey brand personality, and engage with followers. To optimize captions, it is important to keep them concise, relevant, and engaging. Including relevant keywords can also help improve searchability.
Hashtags, however, allow posts to be discovered by a wider audience beyond followers. Researching popular hashtags within your niche can help increase visibility and attract new followers. Utilizing both popular and niche-specific hashtags can strike a balance between reaching a broader audience while still targeting those interested in your content.
Using around 9-11 hashtags per post is recommended for maximum effectiveness.
Promoting Your Rebranded Instagram Account
Promoting a rebranded Instagram account requires strategic and effective marketing techniques. To ensure the success of your rebranding efforts, consider the following:
Collaborating with influencers: Partnering with influencers who align with your brand can help increase visibility and attract new followers. Influencers have established credibility and a loyal following, making them valuable assets in promoting your rebranded account.
Utilizing Instagram ads: Using Instagram's advertising platform allows you to target specific demographics, increasing the likelihood of reaching your desired audience. Creating compelling ad campaigns showcasing your rebranded content can generate interest and drive traffic to your profile.
Engaging with followers: Actively engaging with your existing followers by responding to comments and direct messages helps foster a sense of community and encourages user-generated content. This interaction strengthens relationships and increases exposure as users share their experiences with others.
Cross-promoting on other social media platforms: Leveraging social media platforms such as Facebook or Twitter to promote your rebranded Instagram account can expand your reach beyond Instagram's user base. By sharing teasers or exclusive content on these platforms, you can entice users to follow your newly rebranded account.
Hosting giveaways or contests: Running giveaways or contests effectively generates buzz around your rebranding efforts. Encouraging user participation through likes, shares, or tagging friends can increase engagement and attract new followers eager to win prizes.
BONUS
Upgrade your Instagram rebranding process with OnlySocial's Post Planning and Scheduling function. Planning and scheduling your posts across all social networks is crucial for a successful rebrand. OnlySocial offers unlimited posting and the ability to manage unlimited social profiles, providing the flexibility to execute your rebranding strategy seamlessly. Don't miss out on this opportunity! Sign up for our commitment-free 7-day trial today.
Frequently Asked Questions
How Long Does It Take to See Results From a Rebranded Instagram Account?
The average timeline for seeing results from a rebranded Instagram account varies depending on several factors, including the effort put into the rebranding process and the target audience's response. Impact assessment is crucial in determining the effectiveness of the rebranding efforts.
Are There Any Legal Considerations to Remember When Rebranding an Instagram Account?
Legal challenges may arise when rebranding an Instagram account, particularly about intellectual property rights. It is important to consider potential trademark infringements, copyright violations, and the use of third-party content without proper authorization.
How Can I Ensure My New Brand Identity Resonates With My Target Audience?
To ensure resonance with the target audience, brand identity research is necessary. This involves understanding the demographics, preferences, and values of the audience. Engaging with the target audience through various channels can also help establish a connection and build loyalty.
What Common Mistakes to Avoid When Updating My Instagram Profile During a Rebrand?
During the rebranding process of an Instagram profile, it is important to avoid common mistakes. These can include inconsistent branding elements, a lack of clear messaging, neglecting audience preferences, and failing to analyze competitor strategies.
How Can I Effectively Measure the Success of My Rebranded Instagram Account?
Measuring the success of a rebranded Instagram account involves tracking progress through various metrics such as engagement, reach, and follower growth. These indicators provide insights into the effectiveness of the rebranding efforts.